Getting Started
For Your 1st Visit to Lift and Live:
We are located at 1288 Valley Forge Road, Suite 71, Phoenixville, PA 19460.  Free parking is available in front of our unit.  You can park in any blank space or spot marked "Reserved 71".  Please make yourself comfortable in the waiting room when you arrive. Your trainer may have a session immediately before you, but will be with you shortly!
Please complete these forms prior to going into the gym area:
client-info-sheet
informed-consent-and-release-of-liability 
Please complete these documents prior to your first private training session or evaluation:
Client Questionnaire – this is a .docx.  Please complete it and email it to info@liftandlivefitness.com as a .docx.  If you do not have Word, please ask us for a link to the document to be complete in Google Drive.
What to expect during the early stages of training:
This process requires a relationship between you and your trainer built on trust, honesty, and communication. Any trainer can give you a good workout.  Our goal is to find a trainer who connect with you more deeply than than.  You should have sense of whether you connect, trust, and can open up to your trainer by the third session.
As you get started working with our personal trainers, we want you to feel right at home.  With that in mind, there are a few areas we'd like to make sure you feel very comfortable:
1. Understanding the Fitness Process
The training process is goal oriented.  Regardless of age and fitness level, we use a 3 step approach:
Step 1 – Get Started
Step 2 – Assess current ability level in regard to your goal. For example, if your goal is weight related, we'll assess current fitness and nutrition in a standardized 60 minute evaluation to learn your personal areas of strengths and weaknesses.
Step 3 – Work with you to develop an approach to strengthen your areas of weakness, both in fitness (i.e. cardiovascular and flexibility) and nutrition (i.e. meal planning and meal preparation).
Step 4 – Execute that plan. As you train, we'll be continually revisiting step 1, ensuring you hard work is moving in the direction you want to go, closer and closer to accomplishing exactly what you set out to do, and even more.
Step 5 – Repeat!
You will regularly check in with your trainer to assess progress in regard to your goals – how much has your strength increased?  How are you liking how your body is changing physically?  How many inches have you lost?  How much has your flexibility improved?  How much has your energy improved?  It is often hard to predict "how long" it will take to achieve a specific goal, yet important to continually confirm you're working in the right direction!
2. The Importance of Nutrition, in general & around your workouts
Both too much and too little food in your body can lead to nausea, feeling light headed, and dizziness.  A few general tips to fueling properly for exercise:
Drink plenty of water on the day leading up to your session – generally striving for 1/2 your body weight in ounces of water.
Eat a light meal 3-4 hours before your appointment OR a serving of fruit 30-60 minute before your training time.
DO NOT EAT protein or complex carbohydrates within 2 hours of your session.  DO NOT EAT anything within 30 minute of your session.
3. Recovering from your workouts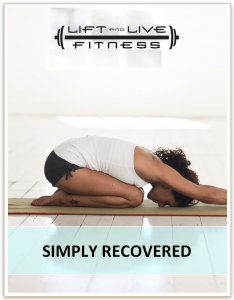 4. Scheduling Online and Accessing Your Online Account
Step 1: ACCESS
Click CLIENT LOGIN from the top navigation at www.liftandlivefitness.com  (you're here now)
Step 2: LOGIN
When logging in for the FIRST TIME go to NEW to our site?
For all future logging in, log in with facebook or go to Been here before?
For help with creating a login, click here.
Step 3: Do what you logged in to do!
Request private training times, sign up for group training, & cancel appointments with at least 24 hours notice
Make purchases and payments & update credit card on file
View training history
View purchase history
Getting Results:
One measure that is important to assess is:  How happy are you with what you have accomplished?  If you would like to increase your satisfaction, please consider these points: 
1. Additional training/exercise/recovery outside of training at LIFT and LIVE Fitness will move your towards your goals more quickly.  This is something you will discuss with your trainer as you become more advanced and feel comfortable that you can exercise safely and effectively on your own.
2. Consistency and adherence to a proper nutrition plan is a very important part of affecting how you look, feel, perform, and function.  We highly recommend you meet with one of our trained nutritionists on an regular/monthly basis to review your meal plan and have a plan in place for integrating healthy, proper eating into your life.  This is often one of the biggest limiters of progress in intermediate and advanced athletes.  (The second biggest limiter is flexibility/recovery!)  The sooner you commit to your nutrition, the sooner you will reap all the benefits of your efforts both inside and outside the gym.
3. You may reach point in your training where you choose to focus on a new challenge.  At this point, you may benefit from adjusting to a new training program or even a different member of our team.  We are invested in your growth and understand this is part of the process.  Please talk any one of our trainers about this adjustment, and rest assured we will not take anything personally!
We very much look forward to building a fruitful relationship with you and supporting your pursuit of all your health and fitness related goals!
Proudly servicing Audubon, King of Prussia, Collegeville, Phoenixville, Main Line, Valley Forge Areas